When:
11/05/2020 @ 5:30 pm – 7:30 pm
2020-05-11T17:30:00+10:00
2020-05-11T19:30:00+10:00
Where:
Seymour Centre
Corner City Road and Cleveland Street
Chippendale, Sydney
NSW 2008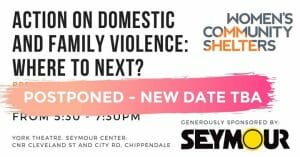 ** The Seymour Centre has advised that they must close their doors until further notice. We will work with the team at the Seymour Centre to establish a new date that fits into their schedule. All tickets will be refunded.**
The murder of Hannah Clarke and her three children at the hands of her intimate partner has shocked the nation and led to a cry for National Leadership to facilitate community, funding, judicial and policy change.
We know what is needed, we have responses to politicians' questions about 'new ideas', and some tried and tested ones, we could implement.. As just a few examples, we could;
* Criminalise coercive control.
* Invest in social and affordable housing.
* Increase funding to women's crisis accommodation, legal and health services.
* Investigate evidence based models such as women's only police stations.
* Focus on repeat DV offenders
* Invest in long-term men's behaviour change models
Let's have the conversations about what can be done.
Join us.
A panel of industry experts and high profile leaders will lead the discussion with opportunity for questions from the audience.
Domestic and Family Violence is a whole of society problem that needs a whole of society solution and strong leadership to make change happen.
Generously supported by Seymour Centre.